8th February - 13th December 2006, extended until 15th March 2007
A presentation of around fifty of Henri Bouchard's (1875 – 1960) works which emphasise his deep interest in the plan serene decorative art style, in stark contrast to the blunt realism which he favoured during his stay at the Villa Medici from 1902 – 1906.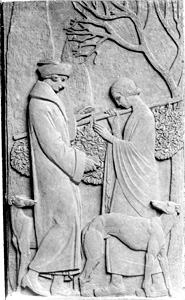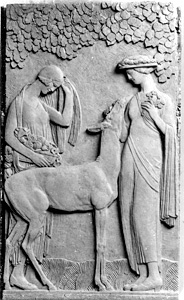 Before 1914
Pierre de Montereau is shown in reduced size, however it is still possible to sense how its monumental format struck the public at the French Artists' Exhibition in 1908, the simple composition with its clear lines emphasising the head where the thoughts of the arts were collected.
Bouchard was worried that this sculpture, "so simple that it appears poor" would not be successful at the Exhibition. Yet it was.




Other examples emphasise the artist's stylistic investigations, unfortunately brought to an abrupt halt by the declaration of war in August 1914.
In the 1930s, decorative works were often of a monumental nature.
In 1936, Bouchard made a monument to the first victory of the Marne, H : 33 m (108 feet) artificial stone, and Apollo H : 6m50 (21 feet) bronze, which can be seen in Paris on the terrace of the Palais Chaillot, exhibited in reduced size, H 80cm (2 feet 7").