19 october 2002 - 15 march 2003
Subjects from country life were a constant presence throughout Henri Bouchard's existence, even though he was always a city dweller, Dijon until he was 19, then Paris.
Even before he left the Villa Medici in Rome in 1901, he had made studies in clay or plaster which the museum has in its possession.
In particular, during his four year stay in Rome he made a series of pieces which were observations of peasant life for his major project of a monument to workers, which was never completed.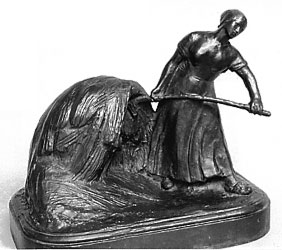 The hay maker - H : 0.30m (11 8/10 inches) (1913)
---
Grape picking is very important in autumn at harvest time and it is important to remember that Bouchard was from Burgundy.
Works depicting men carrying heavy baskets in different shapes depending on the area or women leaning over the vines heavy with warm grapes.
The order in which the works are presented will follow the seasons, spring with the diggers and sowers, and the various births of all the farm animals : Calves, foals, chicks, piglets and so on, near their mothers.

Summer will be illustrated by the different stages of hay making and harvest in bas-relief or sculptures in the round, or by the farmer's wife busy with milking or picking flowers.
The potato harvest or thorough clearing.

Finally, winter will bring rest for the ground but not always for men. Diggers and labourers are still at work and woodcutters cut wood before the sap rises.