du 13 april au 14 september 2002

The sculptures in Paris are too vast a subject for our limited exhibition space yet it seemed interesting to underline the diversity of Bouchard's (1875-1960) creations, which are often familiar to many, who are unaware of the artist.

The exhibition will be limited to those pubic works that can currently be seen in Paris. There are others that were created for Paris that were moved after for various reasons and also unfinished projects. These could be the subject of a future exhibition.

The sculptor's long life provides examples from each period from 1905-1960. About thirty places will be presented to encourage each and every visitor to go and see the finished work in situ and to scale.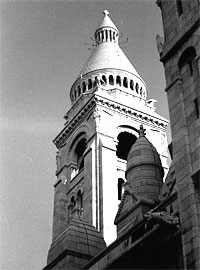 Campanile of Sacré-Cœur