15 october 2003 – 15 september 2004

Women are frequently depicted in the work of Henri Bouchard (1875-1960), illustrating his respect for them through his observation of their true being and in their roles in everyday life.
In a very reserved manner, the artist simply draws attention to the subject by underlining a characteristic attitude at a specific moment.
He sought the life in each, without judgement, and closely observed women around him.
Thus, women were a subject for him throughout his life.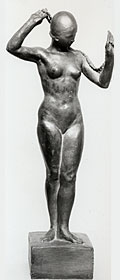 Nude with a necklace, 1930


At the beginning of the twentieth century, Bouchard's style was realistic and he rarely sculpted women : Rebecca, a small nude kneeling and styling her hair, some Roman, Tunisian or Spanish dancers, some peasants, the women of Campania on their way back from collecting water, with their big pitchers.

From 1912 onwards, the works appear individually different to each other, treated in an Art Deco style moving away from direct realism.
They are decorative rather than descriptive : the Young Girl and the Gazelle, displayed at the Autumn Exhibition of 1912 with larger lines compared to one of the same subject from 1909.
His compositions emphasize straight lines, probably to contrast with the curves of Art Nouveau. Austerity is accentuated, the geometric aspect is emphasized, almond shaped eyes and short hair make an appearance, Diana at dawn, dated 1914 on the bronze when it was cast, is a good example of this.
It was the beginning of a long series; from 1920-1930 women were a major theme of his creations, nude or clothed, small bronze casts or enormous works in stone, symbolic or historical or simply alive, as mothers, teachers, wives.









Architects often team up with sculptors who suit their style.
George Wybo, (1880-1943) for example, chose Bouchard to create the décor of the façade of the Printemps shop, of the George V hotel, the Three Graces for the 1925 exhibition and the trophy for the Citroën Africa Rally.
Henri Rapin, (1873-1939) chose him to decorate the Ambassador's room at the 1925 exhibition and the Nude with a Necklace to present a swimming pool at the 1930 Decorative Artists' exhibition, and in a totally different sphere for the memorial monument to the school masters of the Seine et Oise area at Versailles.
This exhibition can be viewed for the images of women going about their everyday life; or simply evoked for their grace and their charms, and it offers an insight into the stylistic evolution of the artist.
Women are particularly well represented in the austere and stylised art of the inter war period.